How to Measure your Window for Curtain Poles
Need some help with how to measure the width of your window for curtain poles? Don't worry, we can help. We've put together this 'how to measure your window for curtain poles' guide that shows you how quick and simple it really is to measure the width of your window. Just follow the instuctions below.
Replacing an existing curtain pole
If replacing an existing curtain rail, simply measure your existing curtain pole not including any finials.
Measuring for a new curtain pole
Decide where you would like to position your curtain pole before measuring. This is usually 10cm (4") above the window.
Please use our diagram below as a guide.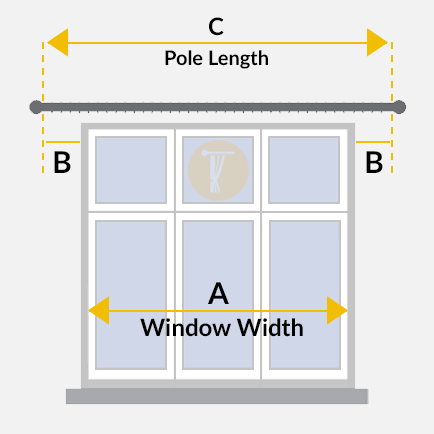 Start by measuring the width of your window (A).
To this measurement add B twice. Usually, B is 15cm (6") and provides space needed for the curtains to be drawn back either side of the window.
So to get the total length of your pole use A + B + B.
An important note...the curtain pole measurements on our website are for the pole only. If you are limited for space either side of your window, please take the size of finials which fit either side of the pole into consideration.