Curtain Pole Samples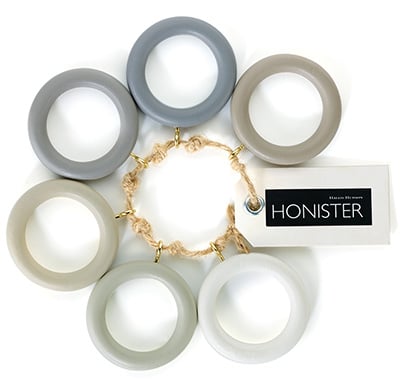 Which is the colour for you?
Can't decide which shade to choose? Or whether to go for wood or metal? We know that seeing a colour in your home, rather than on screen, can really make a difference in helping you decide which product to choose. Which is why we're happy to send colour samples for some of our wooden and metal curtain poles.
Each sample is half a wooden ring or a full metal ring. And you can order as many as you like for just £2.00 (wooden) or £2.50 (metal) each.
Ordering your colour samples
Step 1
Go to the individual product page and select the colour you're considering.
Step 2
Look below the 'Add to basket' button. If samples are available, it will say 'Order colour sample now'.
Step 3
Click on the 'Order colour sample now' button to add a sample of that colour to your basket. Then repeat this for the other colour samples you'd like to order.
Step 4
Go to your basket (top right of the page) to check out.
Step 5
If you order samples before 2pm, we aim to post them on the same working day. If you order after 2pm, we aim to post them on the next working day. We send samples by Royal Mail, and they should be with you within 2 to 3 working days if you order before 2pm.