Curtain Pole Samples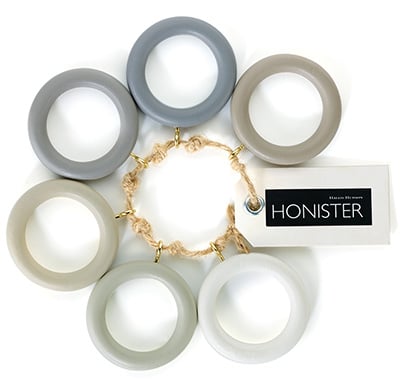 When choosing curtain poles for your home, we know that making an informed decision on which colour is right for your interior goes a long way to giving you exactly what you want.
That's why we offer the option of ordering a colour sample on a selection of our wooden and metal curtain poles. Delivered by Royal Mail, your samples will be with you within 2 -3 working days when ordered before 2pm. You can order as many samples as you like for a small charge of £1.50 each.
So if you're debating whether the poles you've been looking at are perfect colour for your room or not, why not take the risk out of the choice and order your samples first!
Our sample service is to help you make an informed decision when choosing a colour. The colour sample you receive will be half of a ring, or a full ring if it is a metal curtain pole.
How to order your curtain pole sample
Step 1.

Look out for poles with 'Want to see before you buy?'. Click on the orange 'Order your sample now' button and the colour sample will be added to your basket. Order as many samples as you like.

Step 2.

We aim to post out all sample requests on the same working day, when you order before 2pm. If you order after 2pm, the earliest your samples will be posted out will be the next working day. Our samples are sent out with Royal Mail. The colour sample you receive will be half of a ring, or a full ring if it is a metal curtain pole.

Step 3.

Once you've received your samples and decided on the one that is perfect for you, simply come back to our website and purchase your product!

s