Choosing the Perfect Eyelet Curtain Pole:
Expert Buying Guide
Eyelet curtains can add a touch of luxury to any room. If you're thinking about adding an eyelet curtain pole to your window setting, but you're wondering how to decide the best option and size for your home, then find everything you need to know in our expert buying guide from the Curtain Pole Store.
What pole do I need for eyelet curtains?
To find the perfect pole for your eyelet curtains and create a stunning setting in your home, there are various things to consider: the pole diameter, colour, length and style. You'll also need to understand how eyelet curtain poles are fitted and what maintenance is required to keep them looking at their best. Find everything you need to know to make the best choice on your next purchase by reading our extensive eyelet curtain pole guide below.
What is an eyelet curtain pole?
The eyelet curtain pole, often deemed a contemporary choice, is unique since it doesn't use metal rings. Instead your beautiful eyelet curtains will be threaded to and hung directly from the pole itself, producing a deep fold which creates a luxurious window frame.
Are eyelet curtain poles a good choice?
If you're wondering whether eyelet curtain poles are a good choice compared to standard metal curtain poles, then there are many benefits to consider. Eyelet curtain poles offer an effortless way to draw your curtains to flood your home with natural light or close them for peace and privacy, since they don't rely on curtain rings or hooks to attach the curtain material to.
Using an eyelet curtain pole can also be a more affordable option, since you'll likely need less curtain material due to the fact there's no requirement to gather the fabric across the heading of the pole.
So, if you're looking for an affordable, effortless and luxurious way to decorate your window frame, an eyelet curtain pole may be your best choice.
Choosing your eyelet curtain pole: style & colour
What style eyelet curtain pole should I choose?
When it comes to choosing the best style for your eyelet curtain pole, one which compliments your decor perfectly, it really comes down to your personal interior design taste and your chosen colour scheme.
An important initial consideration is whether or not you want to match the colour of your curtain pole to your eyelets, or even to your curtains. The trick is to either create a definite contrast between the pole and eyelets, or match them both exactly, otherwise your window setting can end up looking like an afterthought rather than a well designed, luxurious addition to your room.
We recommend you get yourself acquainted with the vast range of finial styles available (these are the ends of the pole) so that you can understand what type of finial you'd prefer in your window setting - from glamorous to contemporary, and even very simple - there really is something for all tastes.
What colours do eyelet curtain poles come in?
Eyelet curtain poles generally come in the following popular colour choices, with something for every interior style:
Brass eyelet curtain pole
The brass eyelet curtain pole is a timeless, classic choice. This style is ideal for creating a bold, antique look, especially when matched with a rounded finial. Alternatively, a more modern, glamorous style can be achieved when pairing your brass eyelet pole with Kwartz finial.
Chrome eyelet curtain pole
If a more minimalist style is what you're looking to achieve, then a chrome eyelet curtain pole is an excellent choice. Whilst often thought of as a cheaper option, the chrome eyelet pole is also very popular amongst even the most serious of interior designers since, when paired with the right curtains, it can create an attention-grabbing window setting.
Graphite eyelet curtains pole
For those who opt for modern, contemporary interiors, a graphite eyelet curtain pole can be an ideal choice. Not only does the pole itself provide a sleek feel to any window setting, but matched with a contemporary finial, it can be used to add the wow-factor to a room.
Silver eyelet curtain pole
The silver eyelet curtain pole is a versatile choice for a window setting, working in a variety of interior settings. The silver curtain pole finish is provided in either satin silver or satin steel, with plenty of finial options to browse, so you can find the perfect one for your window.
Can eyelet curtains go on any pole?
Whilst eyelet curtains can be used for most pole types, it's generally recommended you opt for a metal eyelet curtain pole, since these allow eyelet curtains to be drawn back more smoothly, compared to other pole materials such as wood.
Choosing your eyelet curtain pole: size & weight
What length eyelet curtain pole do I need?
If you want to create that stunning window show-stopper, then getting your fitting right is a must. With eyelet curtain poles, the curtain fabric sits above the pole, so it's absolutely essential that the curtain material is measured precisely to allow for every fold to sit evenly.
To measure the right length pole for your window size, we recommend the following:
Measure the height above the window
Using a pencil, mark the area where your eyelet curtain pole will sit. We recommend marking around 7 to 10 centimeters above the window recess. For a more dramatic effect, and for high ceilings, you may want to go higher than this.

Measure the width of your window
Now you know how high up your pole will sit, measure the horizontal width of this space.

Measure each side of the window
To allow your eyelet curtains to be pulled back fully, either side of the window, we recommend marking an additional 15cm either side of your window frame

Add up your measurements
To get your ideal pole length, add up your measurements from steps 2 & 3.
If possible, we recommend choosing a pole that's slightly longer than what you need, since you can cut this down to size if you need to. This gives you flexibility when the pole arrives, should you want to adjust the look slightly.
Expert tip: when measuring your ideal curtain pole length, take into account any obstacles like radiators or furniture, which ideally you won't want them to hang over.
Also, if you want to create a grander impression that your window area is much wider or taller than it really is, then you can add even more centimeters either side and above to achieve this, so long as your curtains can cover this distance (and you have the space around the window!). This will generally make it more expensive since you'll likely need more curtain material, but if the grand look is what you're looking for then go for it.
What weight can eyelet curtains hold?
The next factor in finding the perfect curtain pole for your window space, is determining which diameter size can withstand the weight of your eyelet curtains. The last thing you want is to step back to appreciate your beautiful window setting, only to have it slide off the wall!
Thankfully, eyelet poles are made to hold both light or heavy curtains. We recommend the following diameters to ensure your curtains are sturdy and stay firmly in place.
35m curtain pole
This is best suited to heavier curtains, over 11kg in weight.
28mm curtain pole
For lighter curtains, we recommend you opt for the 28mm diameter range.
Choosing your eyelet curtain pole: brand
What are the best eyelet curtain pole brands?
Once you've spent time pouring over the various beautiful options for dressing your window, getting the right measurements and then fitting your eyelet curtain pole, the last thing you want is to discover they're of poor quality.
To avoid any window catastrophes, we recommend you buy your eyelet curtain pole from a trusted and experienced brand. Some of our personal favourite brands, ones our customers love, include:
Fitting your eyelet curtain pole
How do you hang eyelet curtains on a pole?
Once you've marked your measurements (in pencil!) on your window area as described previously, it's time to hang your curtains and create your interior masterpiece.
Marking your brackets
Your brackets will sit in the previously measured points (around 10cm above the window recess and 15cm either side of the window frame), so be sure to mark this in pencil to make it easier when installing your eyelet pole.
Some tips at this point to get the most accurate measurements are:
Take your measurements twice - better to be safe than sorry!
Use a spirit level for maximum accuracy
Get a second opinion - you never know what you might have missed
Stand back from your window and check the measurements are to your design liking
Drilling your brackets
Once you've assessed the space and feel confident your pencil markings are accurate, you can now use the screws provided to drill your eyelet curtain pole in place.
Setting the curtain pole
Now your brackets are fitted, set your curtain pole onto these, ensuring there is an equal amount of pole on each side of the window.
Once you're happy with how this looks, add your curtains to the pole by weaving the material through the eyelets, then place the pole back on top of the brackets.
You can now add your finials to either side of the pole and securely attach your eyelet curtain pole in place.
How do you space eyelet curtains?
To improve the aesthetics of your eyelet curtains, it's recommended that you have evenly spaced folds throughout. Eyelet curtains will naturally create these folds, however if they're looking uneven or the curtains you purchased don't have these folds, you can create them yourself. To achieve this, open your curtains then run your fingers down where you want the fold to appear, from top to bottom.
Do eyelet curtains need tie backs?
A great benefit of eyelet curtain poles is that they don't typically require a tie back, since the curtains naturally drape and hang in an aesthetically pleasing way. Some people do however choose to add wall-mounted tie backs to their eyelet window setting, creating a further grand look, so this can be done.
Eyelet curtain pole care
How can I make my eyelet curtains run smoother?
To allow your eyelet curtains to open and close seamlessly, there are a few things to consider. Firstly your eyelets must be larger than the pole itself (roughly 1cm) to allow them to move freely over the pole.
Secondly, for maximum smoothness, you may want to lubricate your pole to create an effortless glide.
How do you lubricate a metal eyelet curtain pole?
To safely lubricate your curtain pole to allow for a smooth glide, you must only use certain substances which will not damage the pole. For metal eyelet curtain poles we recommend spraying some household polish (silicon-based) onto a duster, then wiping the length of the pole.
Buy an eyelet curtain pole today
Thanks for reading our extensive guide on creating the perfect eyelet curtain pole setting in your home. If you're ready to browse a range of high quality, well priced eyelet curtain poles with designs for all tastes, then browse our eyelet curtain pole shop today.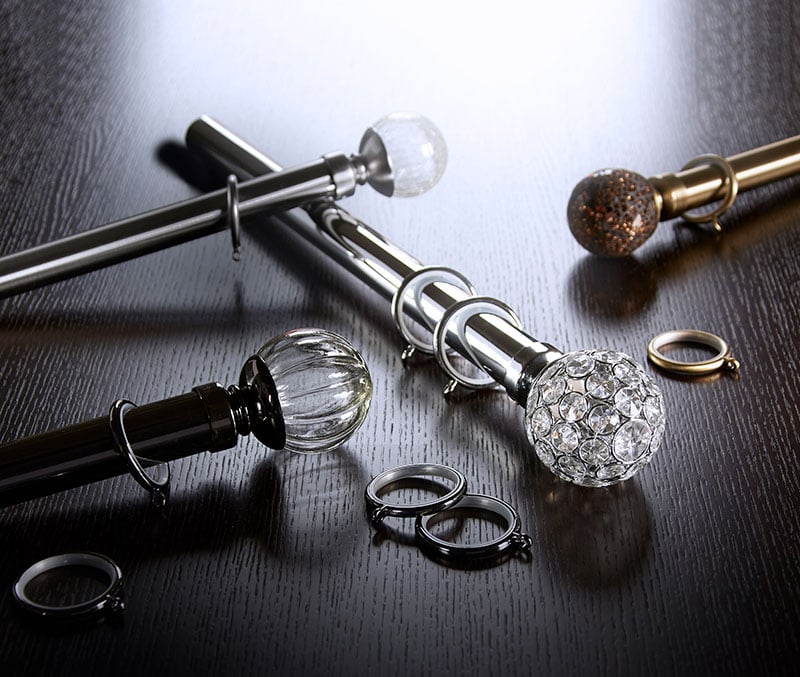 The Origins collection combines simple and modern designs that are hand finished in six light-toned, calming colours.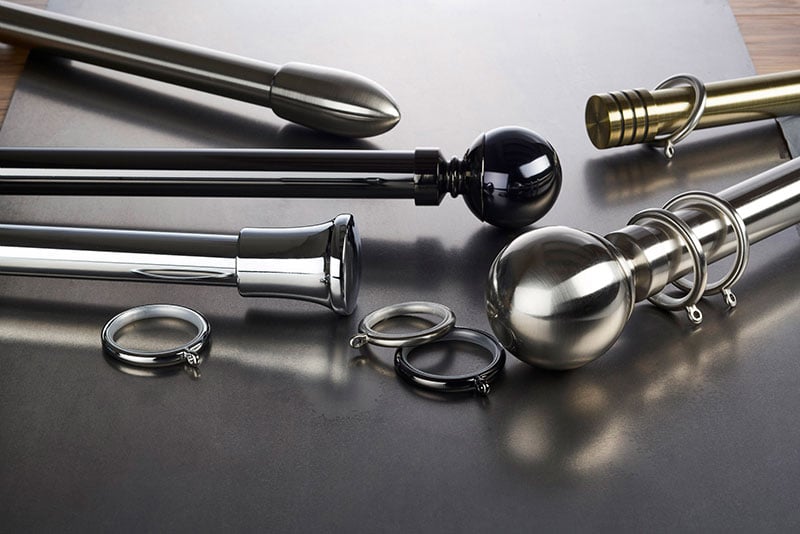 The Modern Country Range - a collection of hand-painted and stained wood curtain poles hand finished in the UK with timeless finial designs.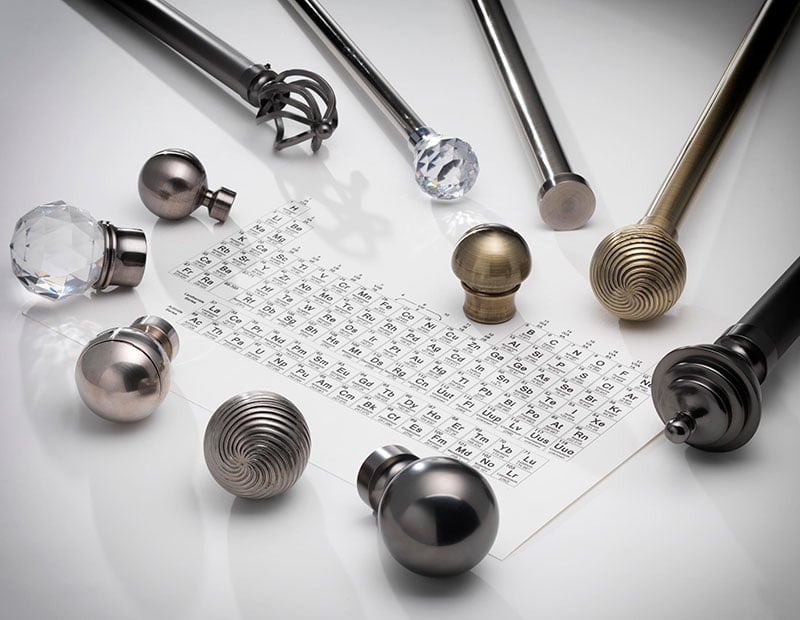 The Modern Country Range - a collection of hand-painted and stained wood curtain poles hand finished in the UK with timeless finial designs.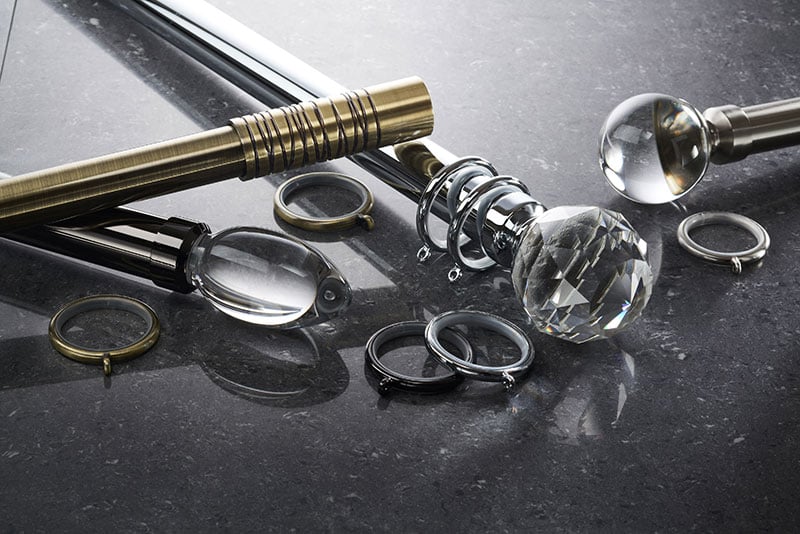 The Modern Country Range - a collection of hand-painted and stained wood curtain poles hand finished in the UK with timeless finial designs.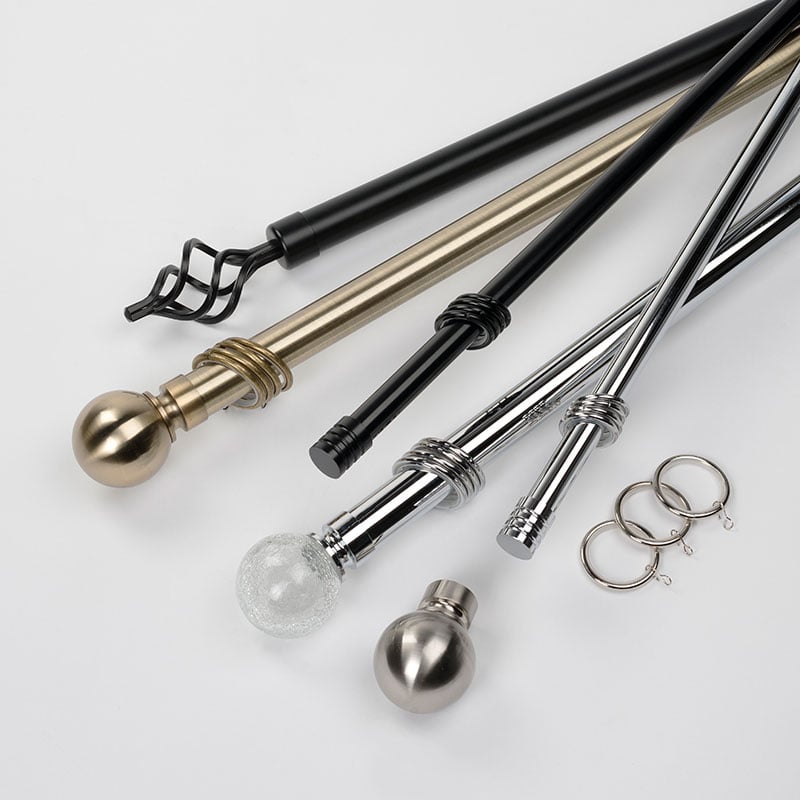 The Modern Country Range - a collection of hand-painted and stained wood curtain poles hand finished in the UK with timeless finial designs.